DreamHost and GoDaddy are two of the oldest web hosts in the industry.
Both of these hosts have stood the test of time owing to their commitment to quality, and both offer great speeds, top-notch support, and tons of features.
But which of the two is better?
Answering this question requires an in-depth review of their prices, features, speed, uptime, support, and ease of use.
In this post, I will show you how one of them is DEFINITIVELY better than the other.
DreamHost vs GoDaddy: Overall Review
DreamHost Overall
DreamHost's reasonable pricing, long money-back guarantees, and diverse set of plans make a super reassuring host that you want to put your money on.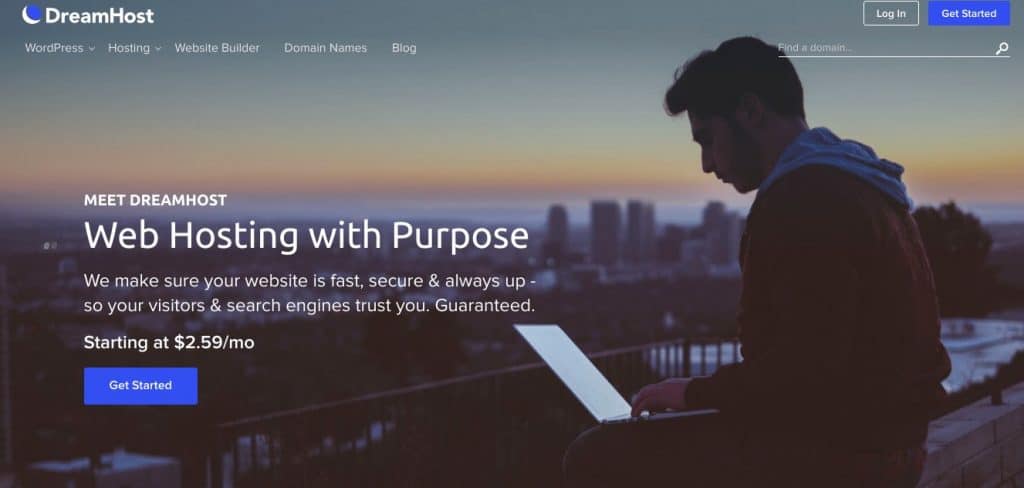 DreamHost delivers excellent value by supplying a feature-rich website builder, automated backups, royalty-free images, a sweet custom interface, and an assortment of application options.
A CDN service and anti-spam features are also included with all plans, and the top-notch user management features make running a business super easy.
The only snags are that the company doesn't offer Windows hosting, and there is no phone support. But other than that, there's nothing to complain about.
GoDaddy Overall
The unjustified and inflated prices of most GoDaddy hosting plans make it the less appealing option.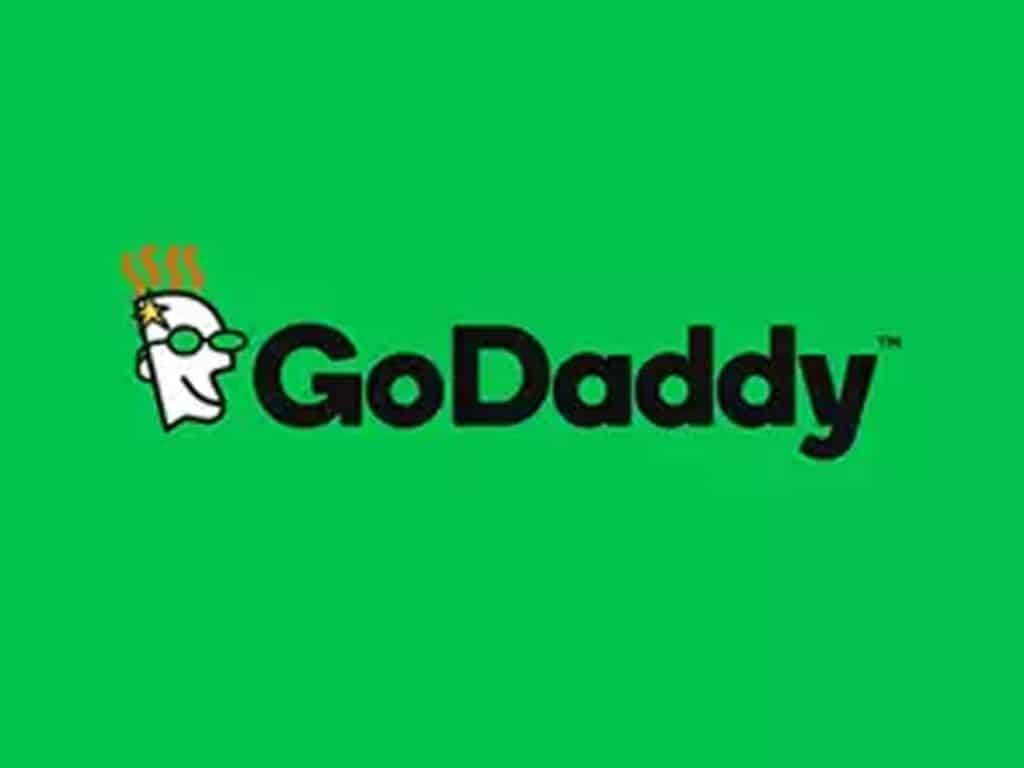 But the company adds insult to injury by only supplying trials of hosting essentials like SSL certificates and email. Other features like backups are also offered on a paid-for basis.
Speeds are slightly slower, and while support is excellent, the documentation is poorly organized.
The company fell short on many counts, making it hard to recommend.
---
Hosting Plans & Pricing
DreamHost
DreamHost offers from shared hosting plans to cloud hosting plans and everything in between, which means you can count on the web host to satisfy both personal and business web hosting needs on every level.
The two shared hosting plans are DreamHost's least expensive plans.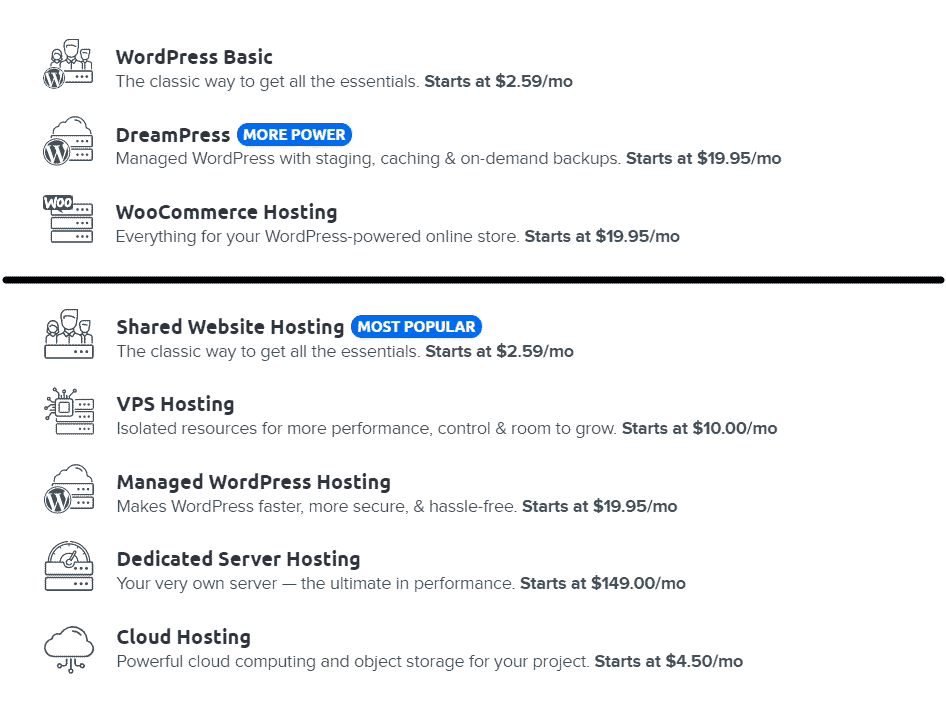 The Starter Shared plan costs $4.95/month but is discounted to $2.59 if you commit for a year or more.
While it offers unlimited storage and bandwidth, you will not be able to use an email with this plan. If you want to, you can add the email feature by purchasing email hosting plans from DreamHost separately.
But opting for the Shared Unlimited plan will give you access to the email and add unlimited website hosting. The plan costs $10.95/month but is discounted to $4.95 with a one- or three-year commitment.
DreamHost has four VPS hosting plans ranging from $15/month to $120/month, but if you commit for one year or longer, you will get a steep discount.
While the unlimited domains and monthly data transfers are excellent, I find the low 1GB of RAM and 30GB of storage offered with the VPS 'Basic' plan disappointing.
There are several dedicated server hosting plans, with prices ranging from $149/month to $379/month, depending on the configuration you get. The most expensive dedicated hosting plan, Enhanced SSD 64, boasts 64GB of RAM and 240GB of SSD storage.
But one thing to note is that there are no Windows-based servers, and the Linux distro is fixed to Ubuntu and cannot be changed.
The company also offers cloud hosting plans starting at as little as $4.50/month ranging up to $48/month. The pricing is cheap, and cloud hosting comes in both the Linux and the Windows variety.
While DreamHost does offer reseller hosting, there are no standalone plans, and you can only resell your own server space by adding domains to it.
While you can also use the shared hosting plans to host WordPress, DreamHost's DreamPress managed WordPress plans are both affordable and supply speedy hosting. With plans starting at $16.95/month, these are definitely worth looking into.
Regardless of what plan you get, if you commit for one year or more, you can get a free domain for your first year with DreamHost. Cool perk!
The company also offers the industry's best money-back guarantee for shared hosting plans – it's valid for 97 days!
All other plans come with the standard 30-day money-back guarantee.
GoDaddy
GoDaddy also offers a series of different plans, but its pricing structure is a lot more complicated than the average web host.
The four shared hosting plans – Economy, Deluxe, Ultimate, and Maximum – are super expensive. The most affordable plan starts at $5.99/month when discounted, and goes up to $8.99/month when you renew.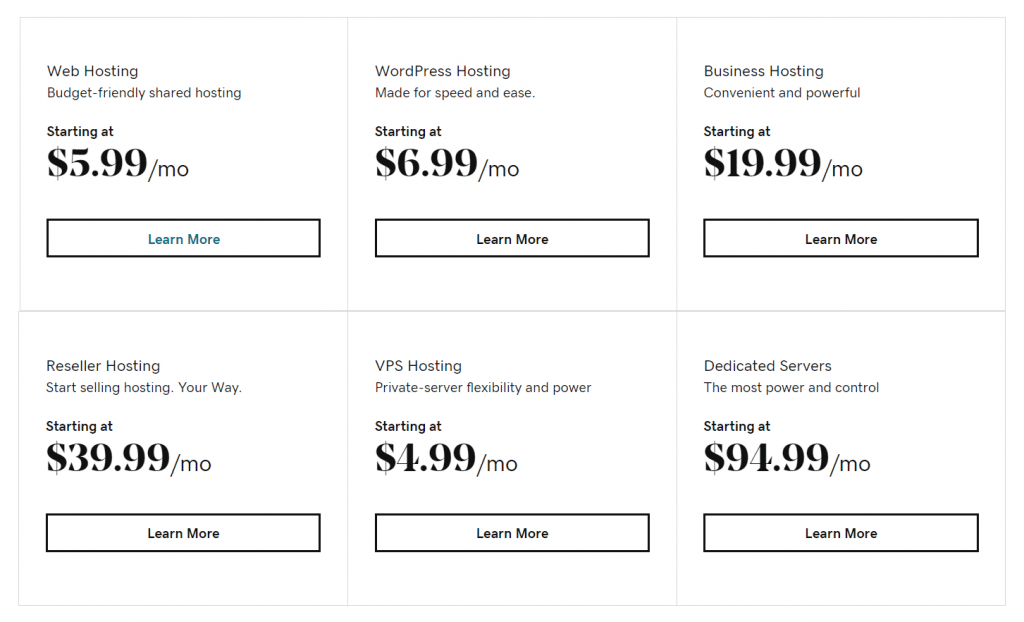 WordPress is easy to install, and the bandwidth is unmetered, which is the silver lining. But the lack of dedicated email and SSL certificates for the plan is a significant drawback.
The inflated pricing pattern continues across all four plans, with monthly costs for shared hosting going as high as $24.99/month!
The most expensive plans come with an SSL certificate, but on a trial basis only for one year.
A free premium DNS is bundled with the plans, and all plans come with a one-year trial of an Office 365 email account, which is not the best compensation, but it's something.
One benefit, though, is that the company offers Windows-based shared hosting for the same prices.
While the WordPress plans are cheaper than DreamHost's, the bandwidths are metered for the most affordable plans, and the supplied free business email expires after one year.
Sure, malware scans are made every day, and some of the higher-priced plans come with website testing and hack repair features.
But DreamHost offers benefits like email, a site builder, daily backups, and more for all plans. I cannot find any substantial incentives for picking GoDaddy over DreamHost for WordPress hosting.
The VPS plans offer good value, with plans starting at as low as $4.99/month and going up to $69.99/month. But these come with Linux and not cPanel.
The Business plans are essentially souped-up plans that use VPS hosting but come configured with cPanel. These plans range from $19.99/month and go up to $99.99/month, which seems somewhat fair when you look at the spec sheet.
Unlike DreamHost, though, GoDaddy offers standalone reseller plans.
But then again, with competitors like A2 Hosting and HostGator offering more value for less money, I can't find how they justify pricing a 4-core, 16GB RAM, 240GB storage reseller account at $89.99/month.
There are no cloud hosting plans, but the four dedicated server plans offer decent value. But there's a catch: you trade of CPU power for lower prices.
Still, prices are better than DreamHost, and the spec sheet is impressive for the price.
The 30-day money-back guarantee only applies if you get a plan for a year or more. The guarantee period drops to 48 hours if you choose to get GoDaddy hosting for a month or three months.
Overall, DreamHost is priced lower and supplies more value to the average user. But GoDaddy is still a solid option for Windows, VPS, and dedicated server hosting.
---
Hosting Features
DreamHost
If you get your hands on DreamHost's WordPress-centric plans, you will also get access to the WP Website Builder, which enables you to build an attractive website quickly.
The drag-and-drop builder's quick start wizard helps you configure basic settings in minutes, and gives you access to over 200 different starter sites. Picking one and adding the required text and images is all you need to do to make your website!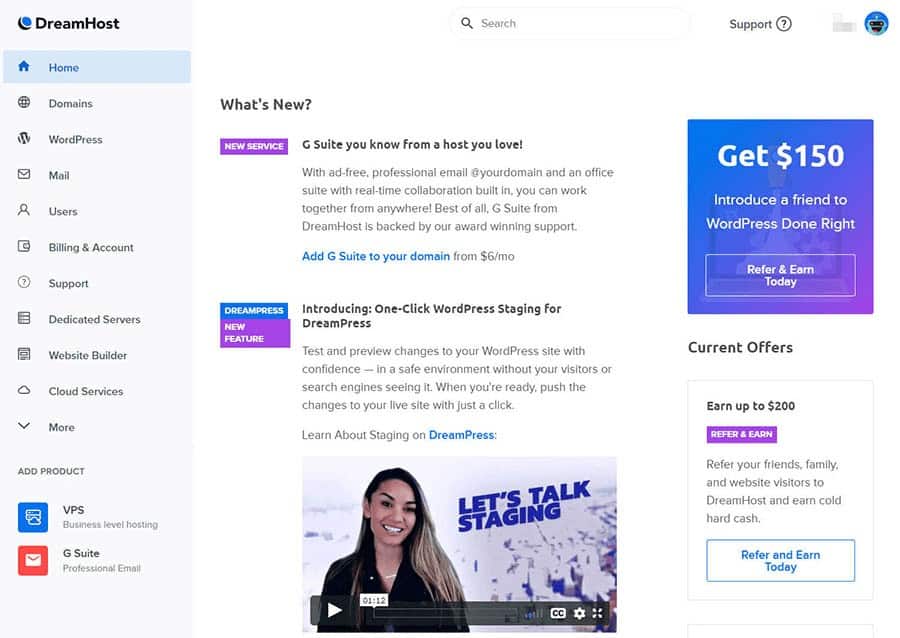 DreamHost also doesn't restrict its users from installing specific plugins like some other hosts do, something WordPress experts will appreciate.
You also get access to DreamHost's refreshing gallery of royalty-free images, which makes finding and adding images a lot easier.
DreamHost users have the flexibility to add applications other than WordPress to their account. You can use Joomla, concrete5, MediaWiki, Piwigo, or concrete5 with DreamHost without much hassle.
Users can also install ZenCart to their DreamHost account in one-click, which enables visitors to browse through the products you have on sale quickly. Of course, WooCommerce is also available to download.
The Cloudflare CDN service can be activated on all of DreamHost's plans, but this is nothing special since Cloudflare works well with most web hosting services.
Your website is automatically backed up every day, and the files are stored for two weeks, which is excellent.
The anti-spam services keep your inbox free from junk mail, but DreamHost doesn't integrate any anti-malware, which is a little disappointing.
But other than that, the .htaccess file is easy to find, and the user management features work well, and the free SSL certificates give it an edge over GoDaddy.
GoDaddy
While features like daily malware scans, automatic backups, and SSL certificates are available, you will need to pay for them separately from your plan.
GoDaddy offers a website builder, and you can try its eCommerce-oriented feature set out for free for a month. But after your one-month trial expires, you will need to pay between $10/month and $25/month (when paid annually) to use it.
The auto-installer gives you access to over 125 apps that you can use with your GoDaddy account, including Drupal, Joomla, MediaWiki, phpBB, Magento, PrestaShop, and more.
The four access levels make it easy for you to permit other users, or what GoDaddy refers to as "Delegates," to use certain parts of your website.
The only significant difference in features of the two hosts is that GoDaddy offers malware scanning but doesn't offer a CDN.
But you need to pay GoDaddy extra for the security and also pay extra for hosting essentials like SSL certificates and automated backups.
Considering that the plans are already expensive, and security can be added to websites using plugins, DreamHost feels like the better option.
---
User Interface
DreamHost
The DreamHost panel is easy to use, vibrant and laid out perfectly. It has just the right amount of white space, and the custom interface is not cluttered with icons.
The primary means to find settings is via the menu on the left, and the options come arranged intuitively. Finding billing information, managing domains, viewing settings for your server, and finding the security options is very easy.
GoDaddy
GoDaddy's web dashboard is easy to navigate and presents all the options neatly. No settings are nested away, which makes controlling your account super easy.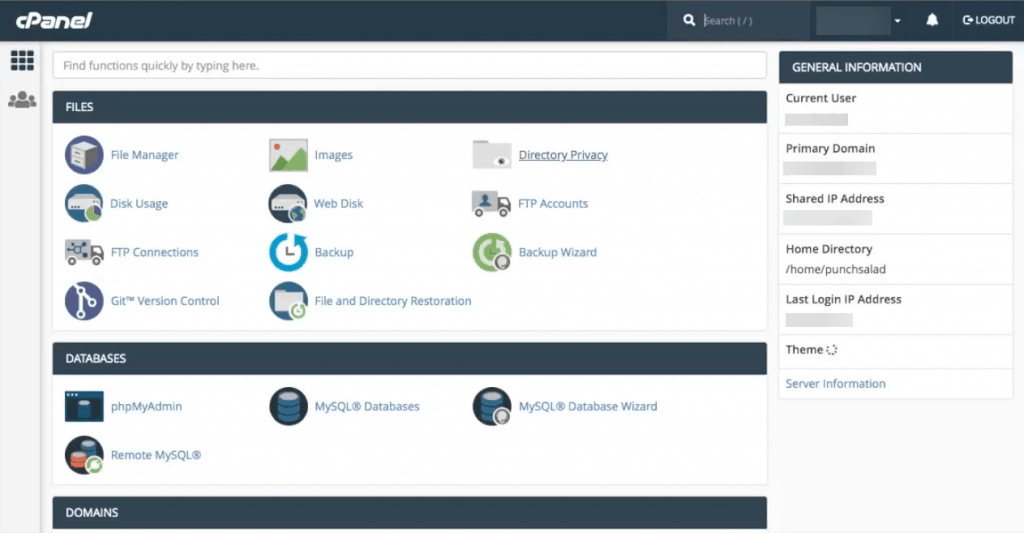 On your website, though, you will find a basic installation of cPanel. Although it does make things like installing WordPress and managing your website easy, I'd expected a custom interface considering the high premium the company charges.
---
Ease of Setup, Speed, Uptime
DreamHost
Setting up a website is quick and easy with the custom interface.
DreamHost's speed is very impressive, considering that it's not cloud-based, and your average page will load in about three seconds – when you're using the shared plan.
Speeds improve noticeably from plan to plan, but the bottom line is you won't have to worry about page loading speeds unless your WordPress setup is very poorly optimized.
The company boasts a 100% uptime guarantee, and while there are some terms and conditions you must look out for, you can expect uptime to always hover above 99.95%.
GoDaddy
When you first sign up for one of GoDaddy's plans, the WordPress wizard helps you set the CMS up in seconds. But you don't get much say in how the install is configured.
If you want to do a custom install of WordPress, you will need to use the auto-installer, Installatron.
GoDaddy's speeds are great, but it tends to be a tad bit slower than DreamHost.
But there are rarely any issues with uptime, and the company honors its 99.9% uptime guarantee.
---
Support/Documentation
DreamHost
DreamHost is a lot more flexible than other web hosts, offering online chat, email, and ticket-based support.
But there is no way for a customer to call customer support, which is disappointing.
Nevertheless, the waiting times on chat support are short, so you shouldn't have issues connecting with someone for help.
DreamHost's documentation explains the details of its plans thoroughly, and also explains the intricacies of WordPress, the email feature, DNS, and more in detail.
GoDaddy
Articles on the documentation page are poorly organized, and it can be difficult to find the solution you're looking for.
But the community forums are easy to search and post on, and the live chat and phone lines are super responsive.
---
Verdict: Which is Best?
GoDaddy doesn't put up much of a fight, charging extra for essentials like SSL certificates and email ON TOP of the already expensive plans.
DreamHost takes the customer-first approach by supplying decent value at relatively low prices.
The support is excellent, the interface is easy to navigate, and the speeds are some of the best in the industry, making it the winner in today's comparison. The automated backups, email, CDN, long money-back guarantees, royalty-free images, and the feature-rich website builder DreamHost provides are bonuses.