Auction sites are one of the best means of connecting buyers to sellers, and creating your own auction site can be very profitable.
WordPress auction themes and plugins make creating an auction site super easy, but with so many seemingly perfect auction themes and plugins available, finding the right one can be a challenge of its own.
Not to worry – we've handpicked 20 of the best WordPress auction themes and plugins to help you find the right one quickly.
Best WordPress Auction Themes: Top 12 Picks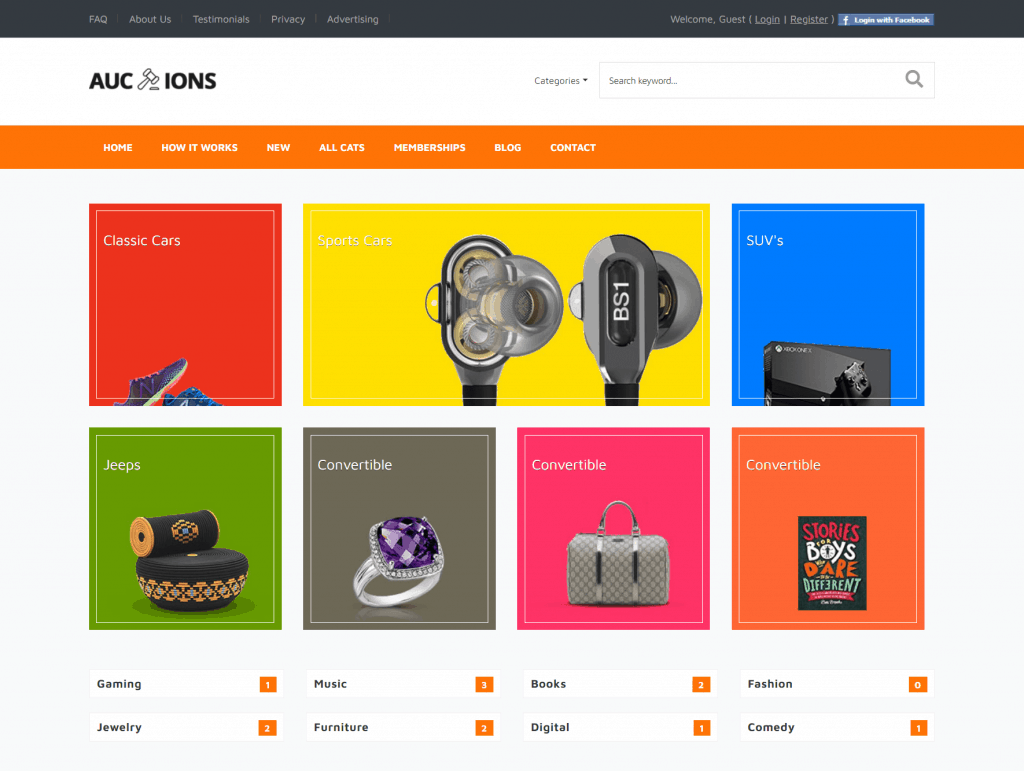 In addition to being responsive and customizable, Auction Theme by PremiumPress also enables eBay-style Ajax bidding. 
The auto-bidding system makes bidding easy for buyers, and features like the re-list auction feature, membership packages feature, and the dedicated auction desk make your website a lot more convenient to use.
You can set a house commission and enable soft-closure to ensure that the seller gets the best price, and you get the best commission.
Pros:
Gutenberg and Elementor compatible
Theme complies with GDPR
Beautiful templates with more added every month
Cons:
Expensive at $99
Hit or miss support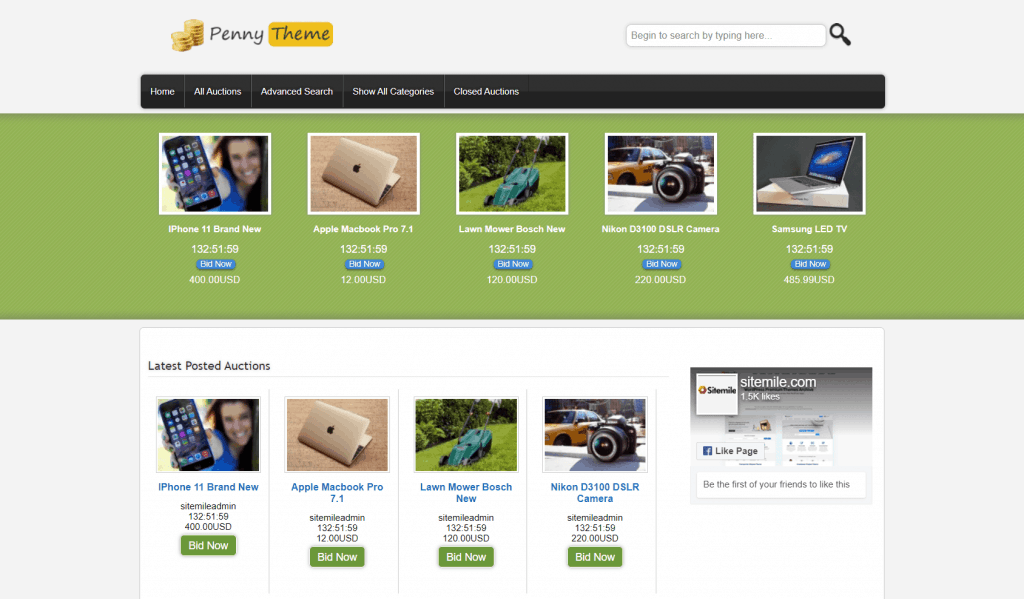 If you're looking for a neat and straightforward auction theme, you will love Sitemile's Penny Theme.
Custom auction posts are easy to add, and payment gateways come integrated into the theme, making it very convenient for beginners to use.
It comes with all the auction tools your users need, and the multi-currency support ensures any user can place bids internationally.
Pros:
Facebook and Twitter integration
Decent pricing
Excellent documentation
Quick support
Integrates well with GDPR plugins
Works with Gutenberg and Elementor
Cons:
Some may find theme too dull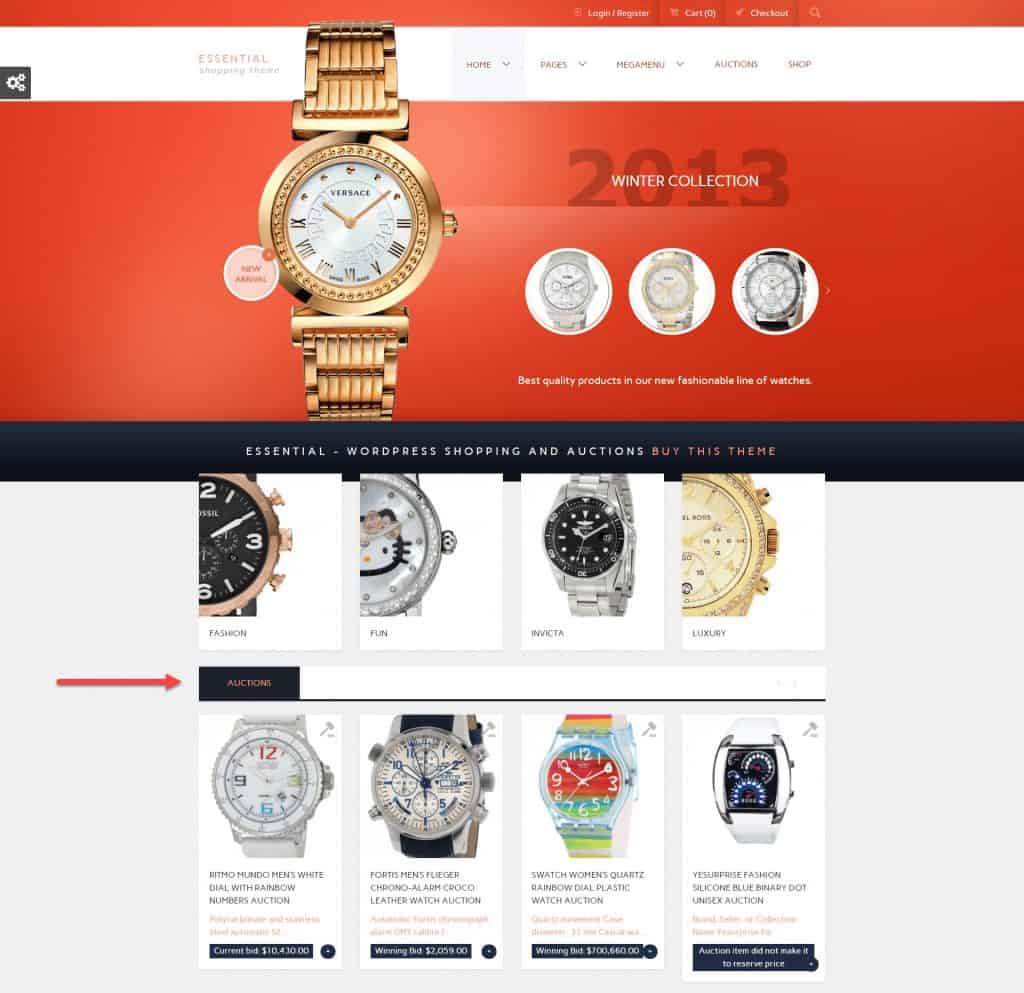 If you're looking for a WooCommerce-powered auction theme, Essential is for you. It comes with the WooCommerce Simple Auctions extension integrated.
The theme has two types of sliders, supports unlimited color schemes, and features beautiful mega menus that make it easy for visitors to find the items they may be interested in.
It also features a host of eCommerce tools that make buying and selling convenient for your users!
Pros:
Great pricing
Many customization options
Comes with pre-defined page layouts
Cons:
Does not work with Gutenberg
No native GDPR compliance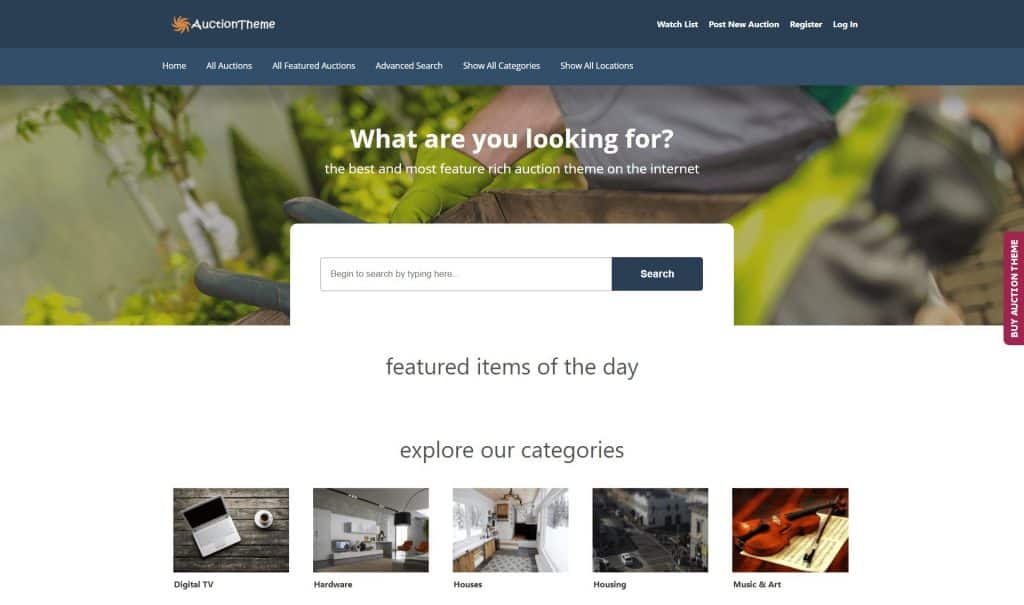 If you're looking for an attractive theme that makes auction management easy, you should get AuctionTheme.
You don't need to install any extra plugins to run auctions, and since the theme enables you to use five different types of auctions, vendors will have no trouble selling any kind of product quickly.
Pros:
Modern, sophisticated design
Responsive
Gutenberg and Elementor compatible
Cons:
Pricey
Only one-week money-back guarantee
No native GDPR support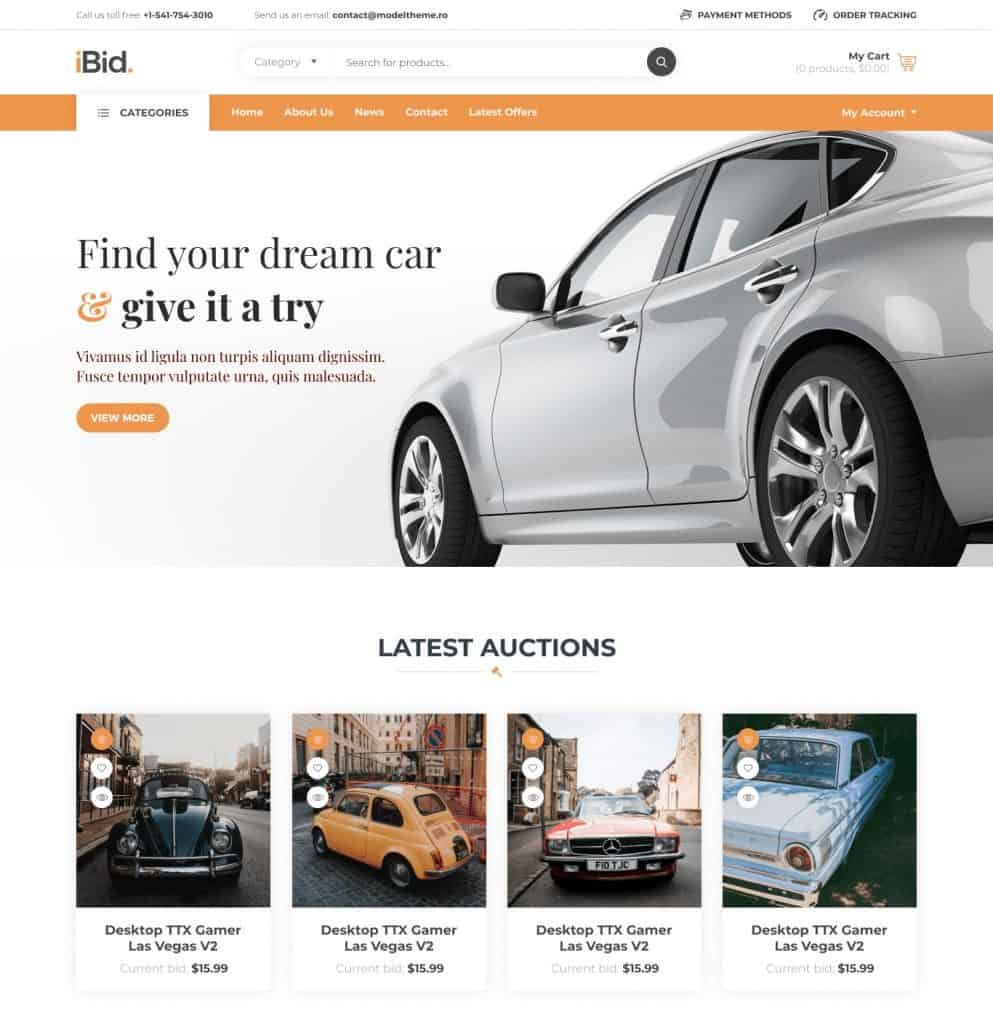 iBid gives you access to twelve enticing demos spanning multiple niches, enabling you to sell anything and everything. 
It comes with dozens of shortcodes and supports RTL languages, allowing you to auction products internationally. The theme can also be repurposed as a crowdfunding theme.
iBid is WooCommerce ready and boasts a vast selection of customization options that enable you to make their demos your own.
Pros:
Works with GDPR plugins
Multi-purpose theme
Beautiful templates
Cons:
Not Gutenberg optimized
No refunds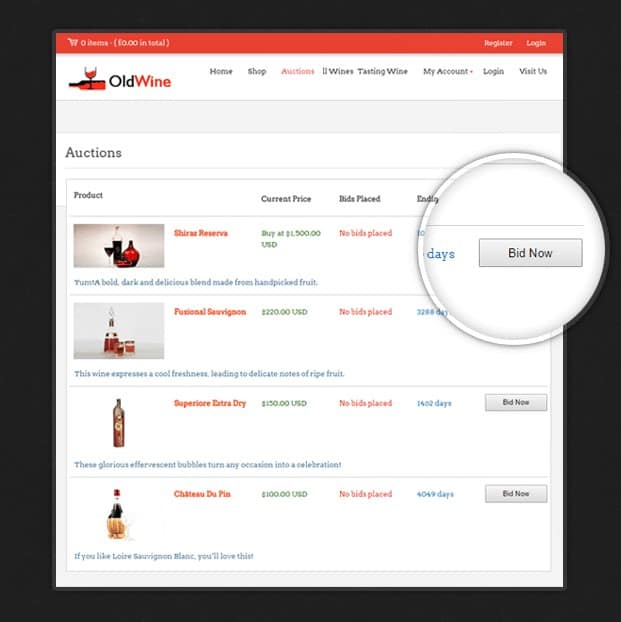 The OldWine theme is right for users looking to create an auction site for vintage wine. 
It comes with an attractive slider, and also includes a few custom templates that you can use to speed up site development.
The theme is 100% responsive and retina ready, and the single page design can be customized to meet your taste. Its shortcodes and the widgetized sidebar and footer enable you to give the theme a personal touch.
Pros:
Attractive design
Colors and elements easy to customize
Cons:
No native GDPR compliance
Theme option customization only
Niche-specific theme – cannot be repurposed with ease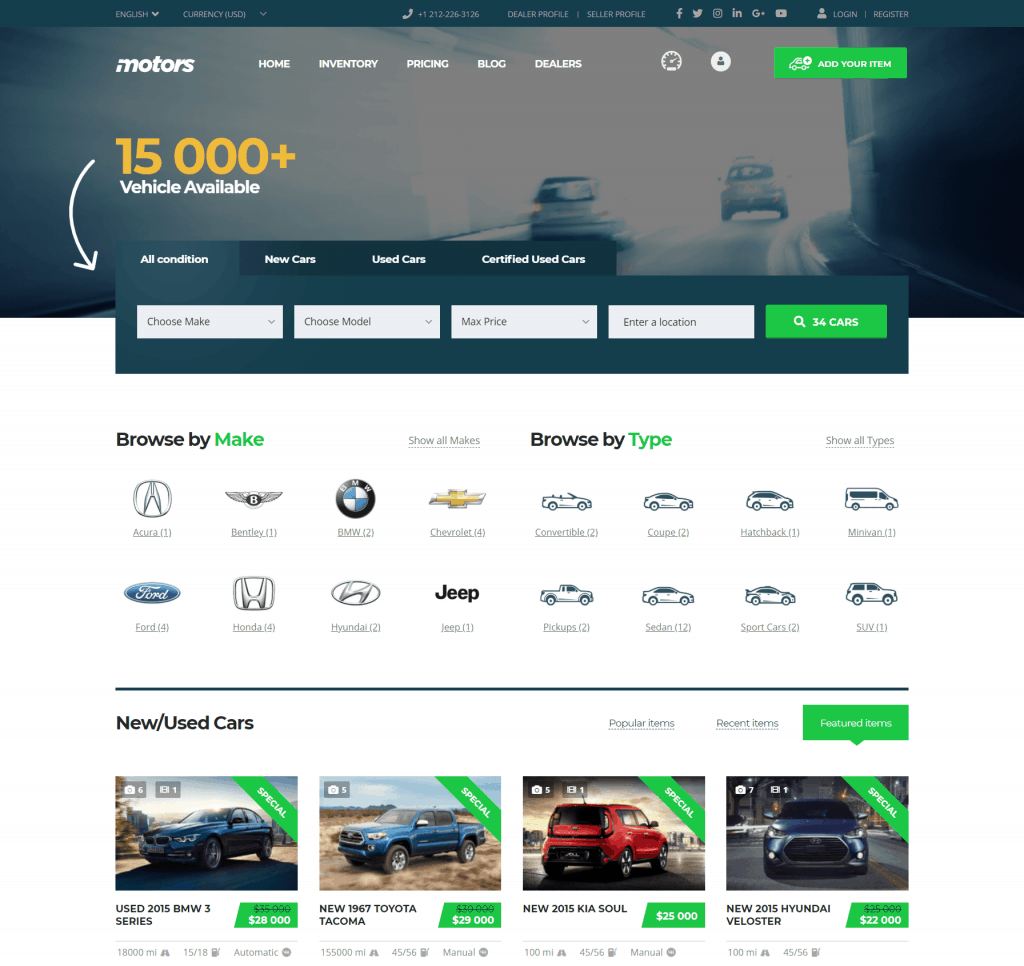 If you're looking to tap into the premium automobile market, the Motors theme can help you make a website for selling aircraft, boats, and superbikes.
You can import an inventory database with ease, and quickly create a professional-looking site using one of the theme's 16 demos.
The advanced search options, pre-defined color schemes, 38 custom styling options, and the Visual Composer page builder make creating your dream automotive auction site easy.
Pros:
WooCommerce compatible
Bootstrap for design consistency
Comes with GDPR plugin
Comes with Visual Composer and inventory manager
Cons: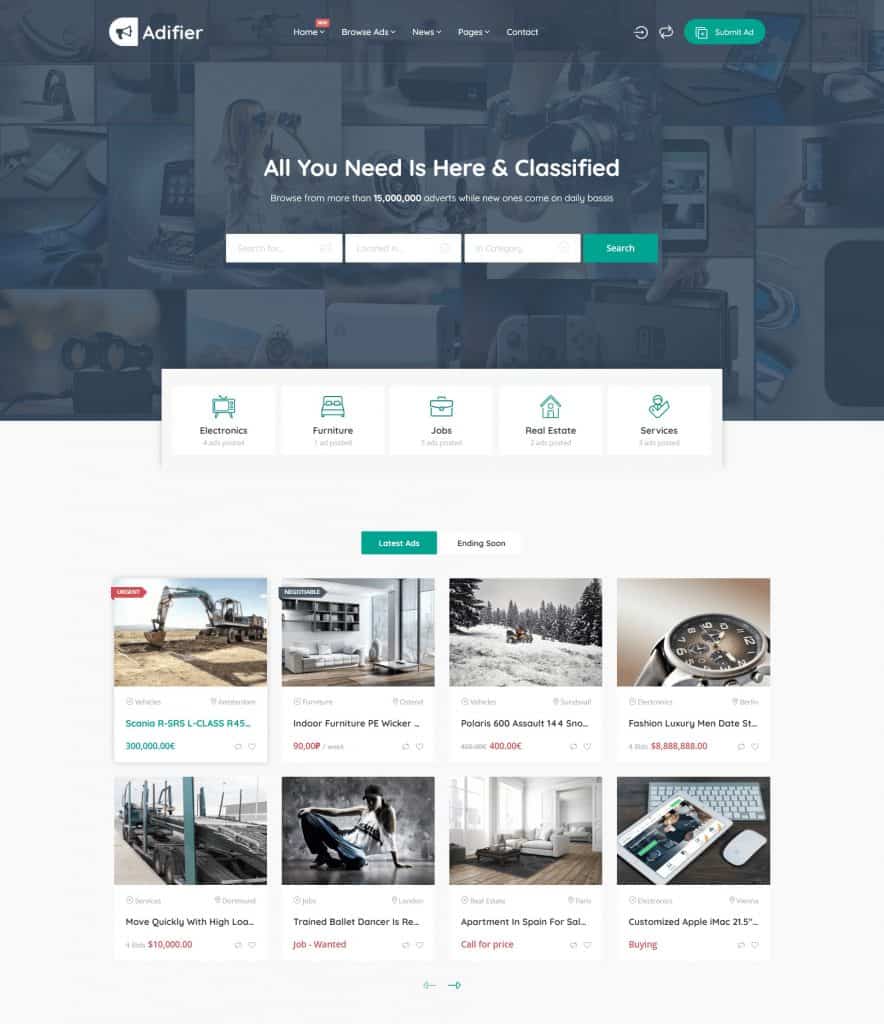 If you're looking for a gorgeous modern auction theme, Adifier is right for you. It is a classified theme that can double as an auction theme with its built-in auction system.
The advanced custom fields enable vendors to use your platform to sell any type of product. The theme enables you to embed almost every payment method to your website, including PayPal, Paystack, and Stripe!
Pros:
Excellent pricing
GDPR ready theme
Various ad types, search filters, and customization options
Gutenberg compatible
Cons:
Only six months of free support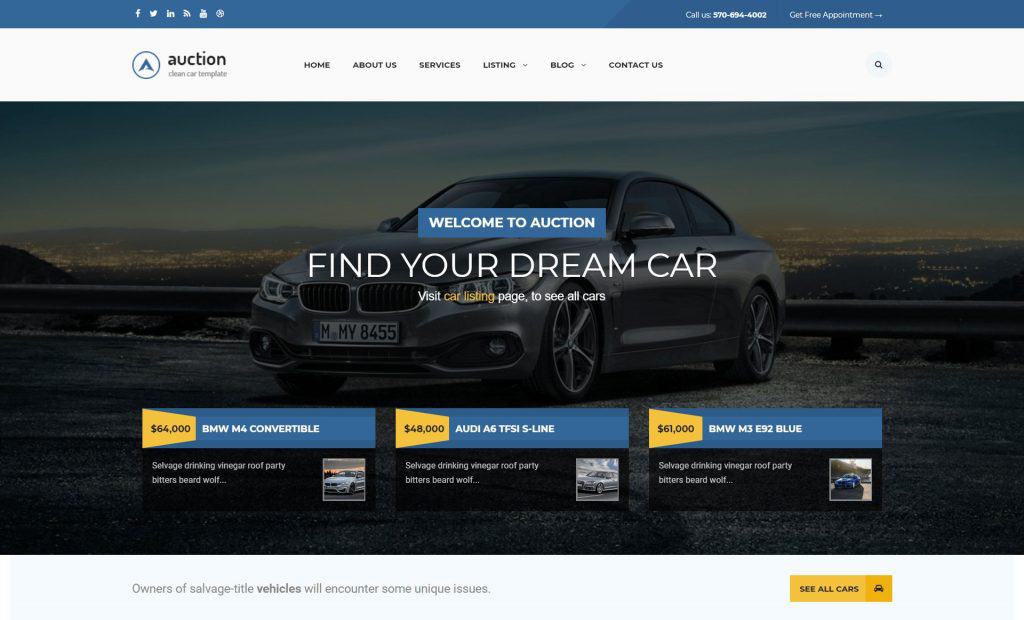 The Auction theme by Dex Themes is perfect for you if you want to start a website for auctioning cars.
It is compatible with WooCommerce, which gives you tons of eCommerce settings to tinker with. The WPML compatibility enables you to target specific markets.
You can get a head start by importing the demo and customizing it to fit your style and taste.
Pros:
Schema.org markup
Responsive
Comes with page builder
Tons of useful shortcodes
Cons:
Not GDPR compliant
Not optimized for Gutenberg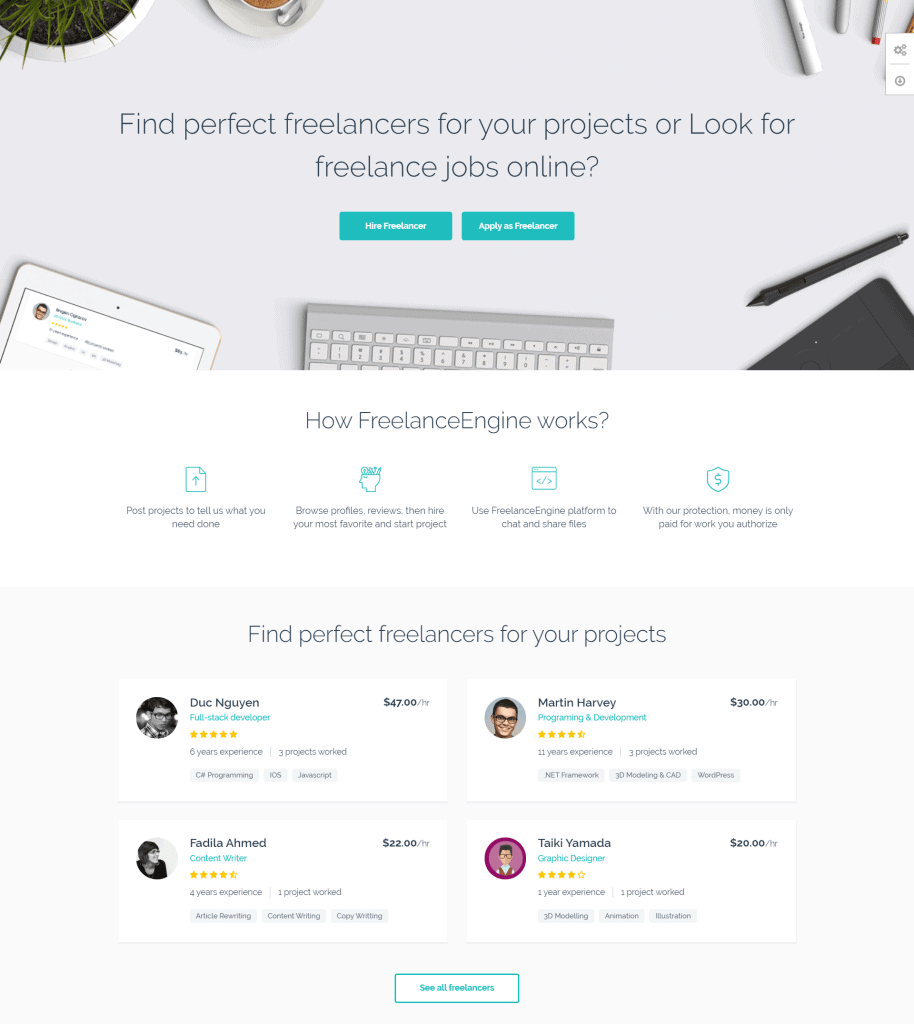 FreelanceEngine boasts a strikingly professional, modern design. A brazen theme such as this one can attract business with ease.
You can make profits with this plugin in multiple ways. One way is to charge users for posting and featuring jobs. You can also take a commission for every finished project via the escrow system.
Freelancers can bid for jobs effortlessly, and employers can invite specific freelancers to bid.
Pros:
Escrow system and multiple payment APIs
Responsive
GDPR complaint
Cons:
Very expensive
Not Gutenberg optimized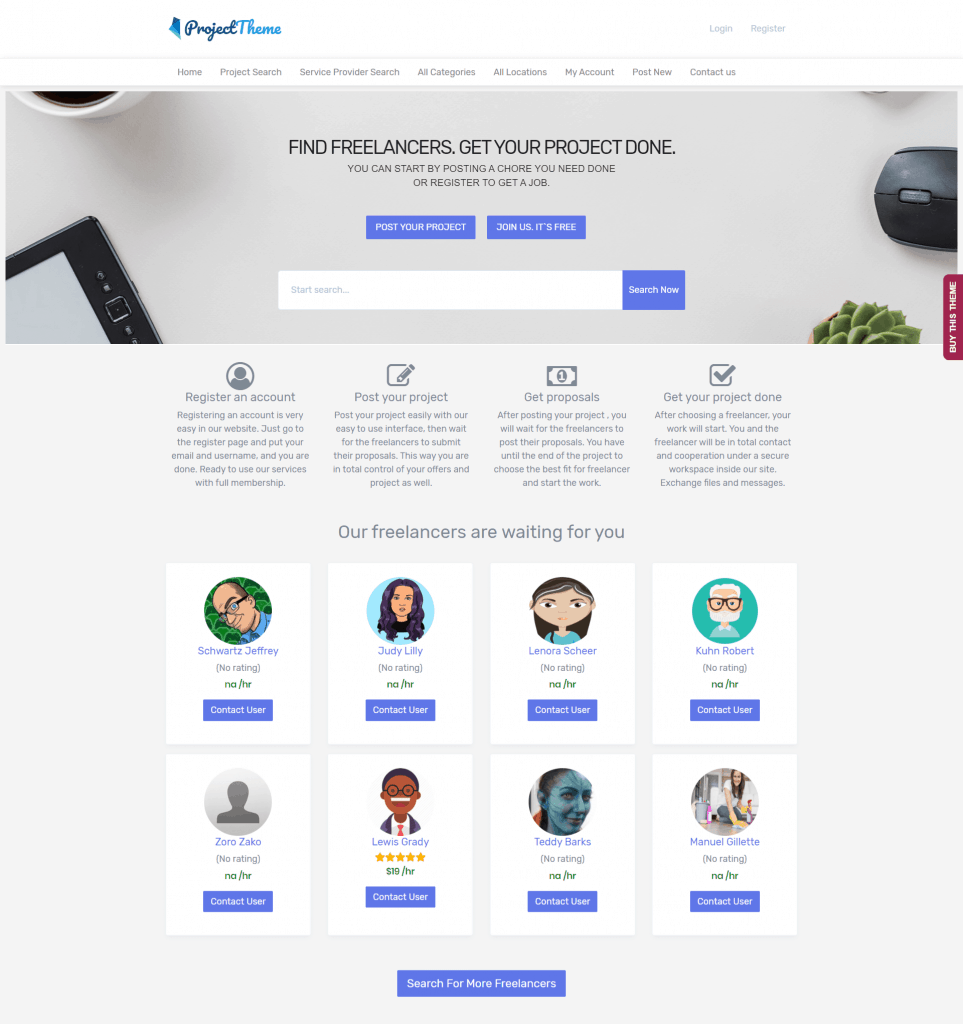 Unlike FreelanceEngine, the Project Freelancer theme has a bubbly and vibrant design, giving it a more casual undertone, making it more inviting.
The theme features a credit system that you can use to enable bidding, and the escrow system ensures that every employer's money is safe.
The integrated private messaging system enables smooth collaboration, which, coupled with the email notifications, keeps both parties informed about updates in real-time.
Pros:
Attractive interface
Excellent security features
Responsive layout
Easy to charge fees
Cons:
High price
No native GDPR support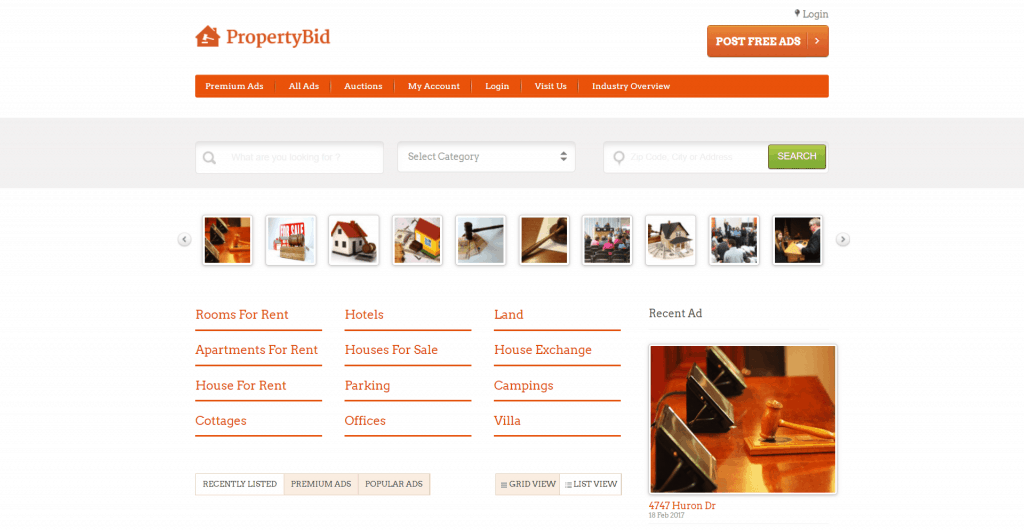 Real estate auctions often fetch high commissions, and you can tap into the market by using PropertyBid with your WordPress setup.
The horizontal slider, search listing option, the three-tab sections, and the post "free ads button" keeps the interest of visitors and nudges them to interact with the site.
It is retina-ready and WPML compatible, ensuring that you can sell real estate regardless of the user's device or location.
Pros:
One-click installation
Clear documentation
30-day money-back guarantee
Great pricing
Cons:
Not natively GDPR compliant
Theme option customization only
---
Best WordPress Auction Plugins: Top 8 Picks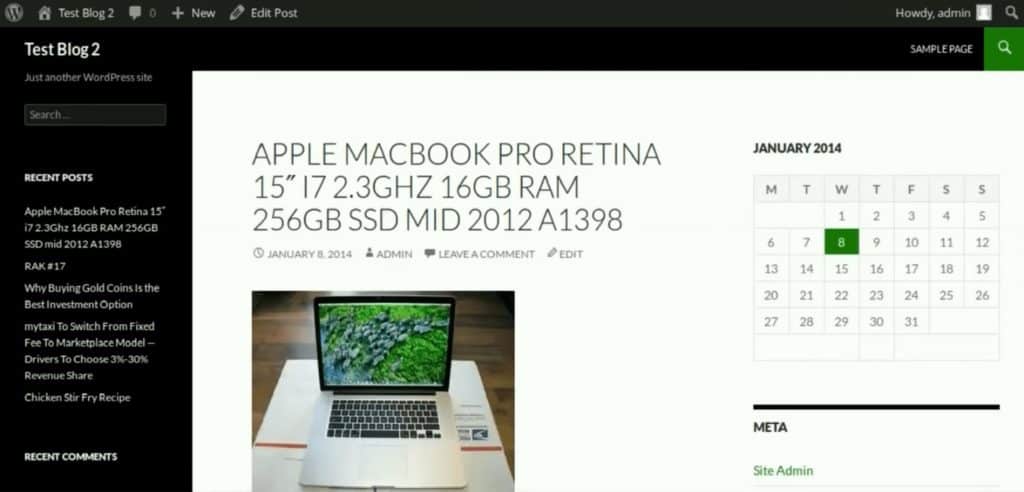 If you're an affiliate and part of the eBay affiliate program, you can use this plugin to post eBay auctions on your website automatically.
It filters auctions using the keywords you specify, and you can also set up the plugin to post items from a specific eBay seller.
Couple it with an attractive theme, and you will find yourself earning a decent passive income from eBay affiliate sales in no time.
Pros:
Versatile plugin
CodeCanyon Elite Author
Cons:
Only one auction feature
Slightly expensive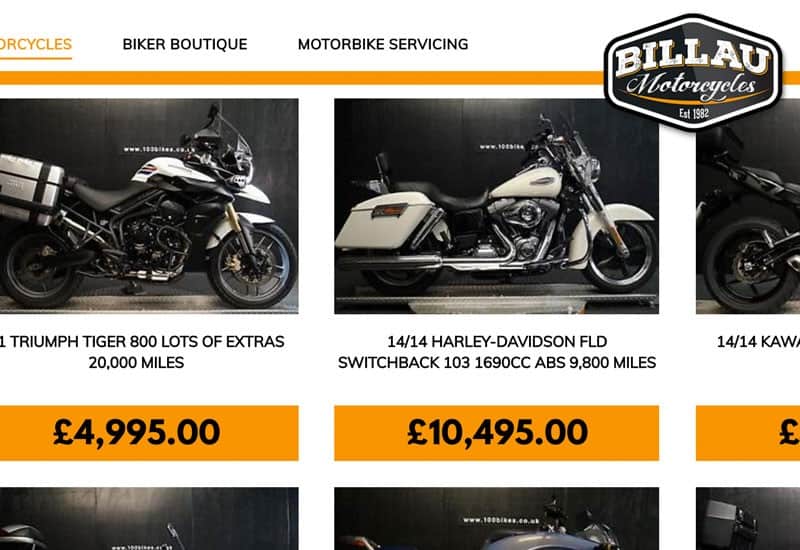 Auction Nudge is the perfect free tool for eBay sellers looking to boost auction sales using their WordPress site.
You can add Auction Nudge to your site via shortcodes. It can also be integrated as a widget from within your theme.
It has several displays and search customization options, giving you full control over what your visitors see.
Pros:
Free to use
Detailed documentation
Cons:
The plugin may use a lot of server resources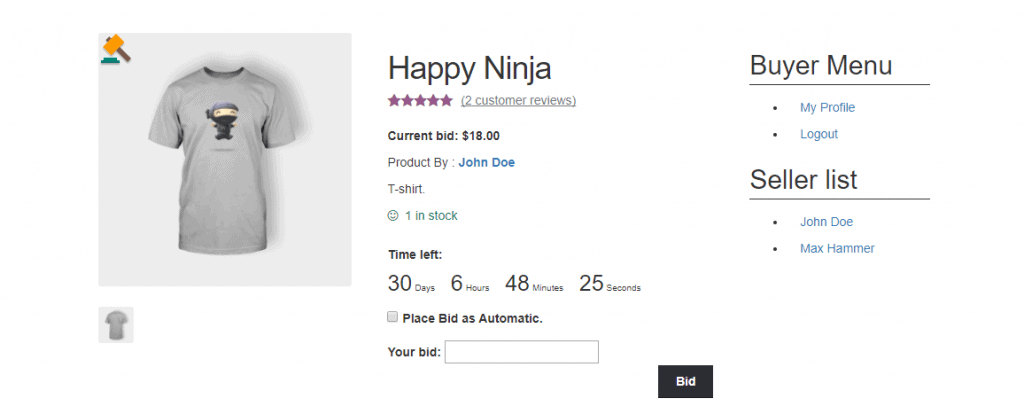 The plugin enables you to add four types of auctions, and an email is sent to the customers when a new bid is placed.
It also enables customers to place automatic bids by entering their budgets.
The plugin works well with all WooCommerce compatible themes, which ensures that you have access to all the eCommerce tools you need to create a successful auction site.
Pros:
Excellent features
Extensive documentation
Fast support
Cons:
Requires WordPress WooCommerce Multi-Vendor Marketplace Plugin to work
Expensive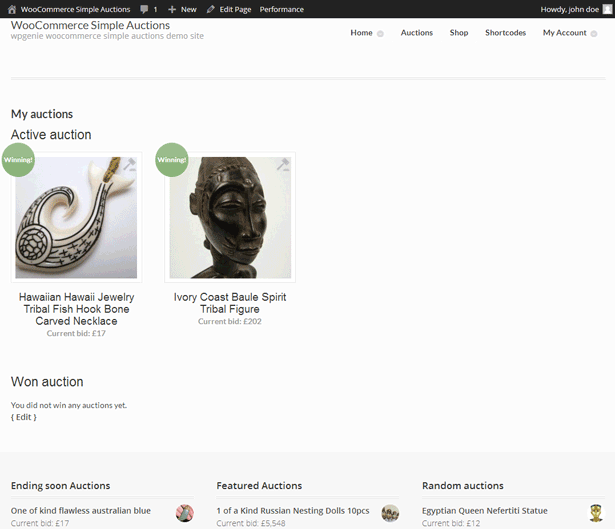 WooCommerce Simple Auctions makes setting up a professional auction website super easy. 
You can run regular, proxy, silent, and reverse auctions, and if you have the payment processor ready, you can get auctions up and running in less than 30 minutes!
The anti-snipping feature, email notification feature, Ajax live-updating functionality, and the shortcodes give you a lot of control over your auction website's look and feel.
Pros:
Affordable
Easy to use
Packed with features
Gutenberg optimized
Cons:
Does not work well with custom-built WordPress themes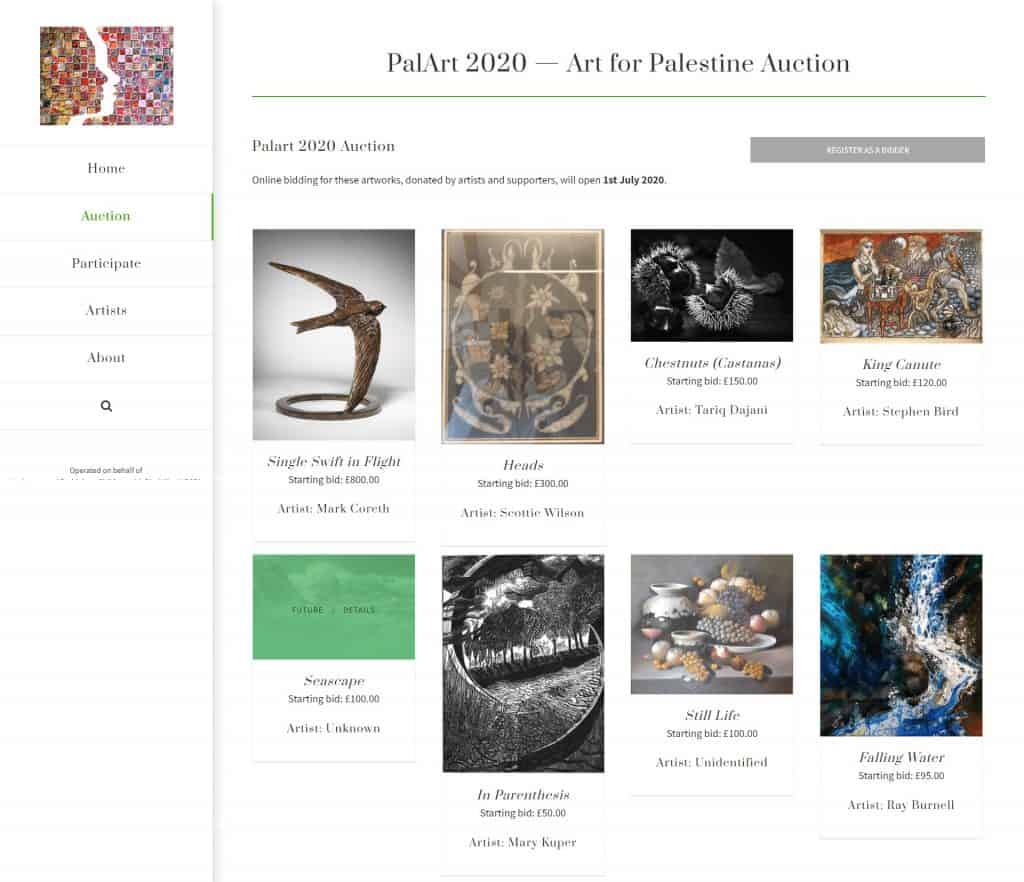 Using Ultimate WordPress Auction is one of the best free ways to put up auctions on your website. The free version allows you to add auctions that registered users can bid on, and also supplies you with an Ajax admin panel for easier management.
It also comes with Lightbox and Email notification features, which make your website more attractive and convenient to use.
The Pro version adds more to the already excellent plugin, giving you access to tons of shortcodes, SMS notification features, auto-debit features, and much, much more.
Pros:
Feature-rich free plugin
Excellent support
Cons:
Expensive Pro version
May require styling to work properly with certain themes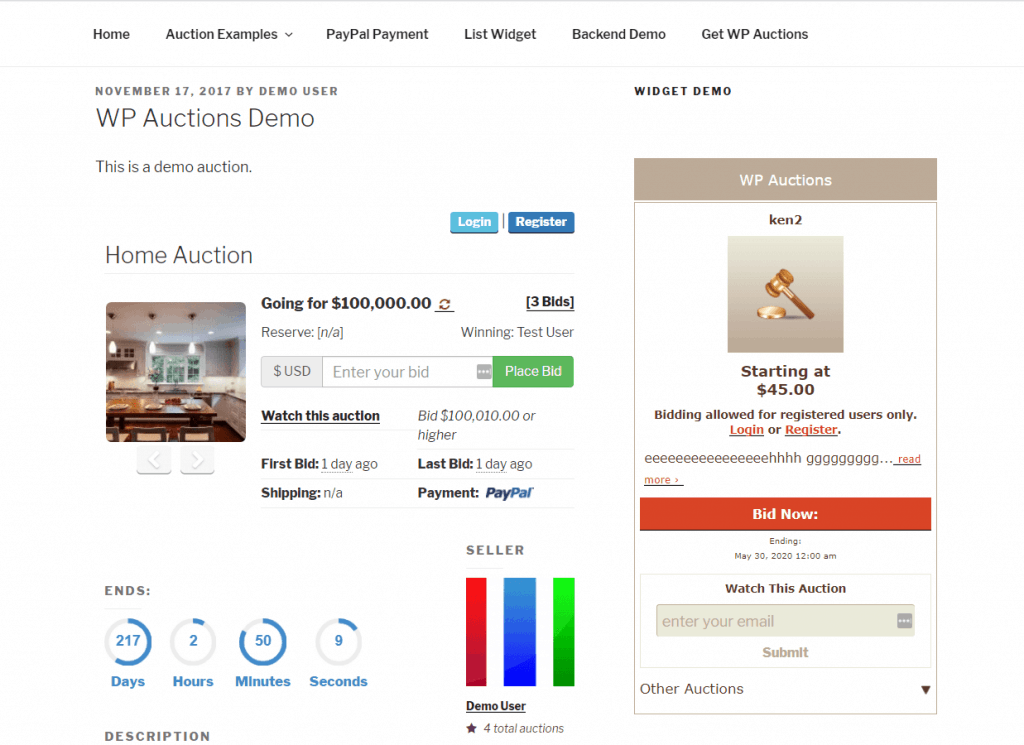 WP Auctions is a one of a kind plugin that enables you to sell anything from art pieces to planes to properties.
It boasts three bidding engines, custom currency options, email notification features, auction widgets, re-listing options, three layers of security, and many other powerful features.
Pros:
Affordable instant download plan
Excellent selection of features
Gutenberg friendly
Cons:
Overpriced yearly plan
Very limited free version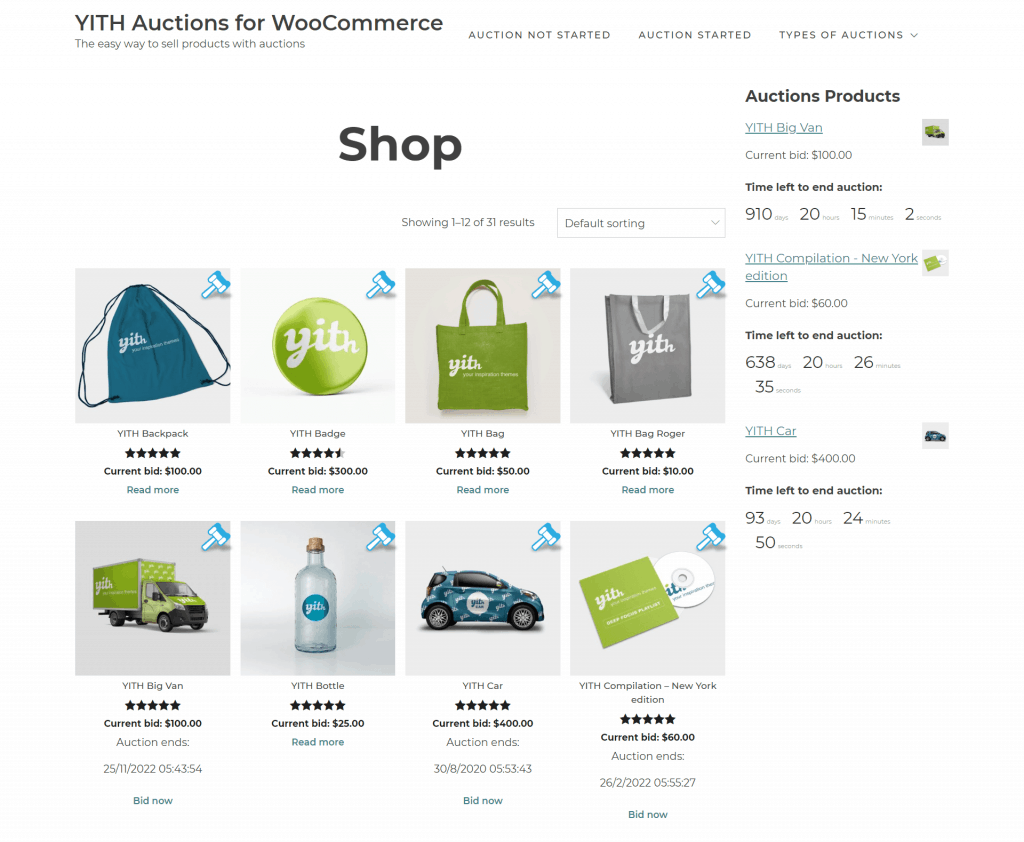 If you're looking for an easy to use plugin and don't want to change your theme to create an auction site, YITH Auctions is perfect for you.
It gives you access to all the controls you will need to create an eBay-like auction site without needing to change your theme.
Pros:
Super easy to use
Ready to use with Gutenberg
Cons: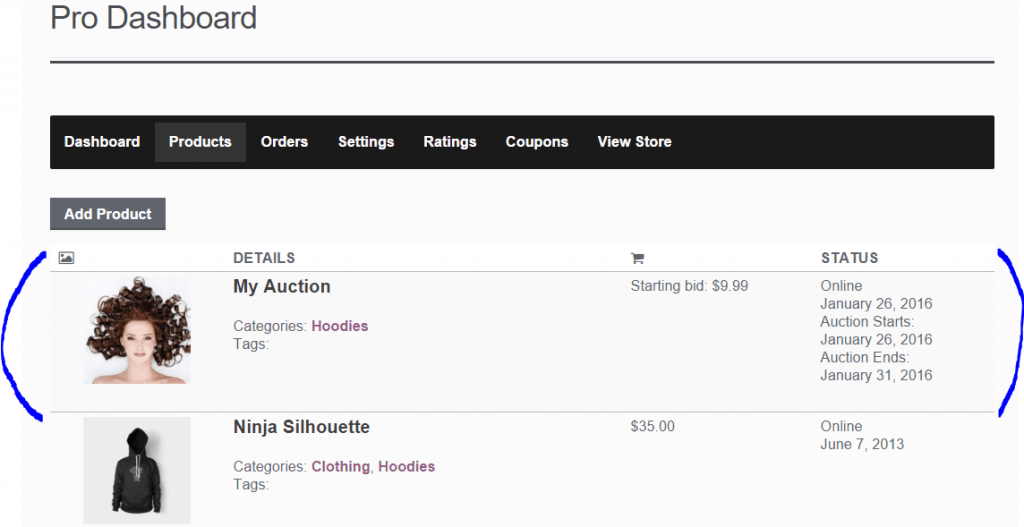 Coupling this plugin with WooCommerce Simple Auctions enables your vendors to create auctions right from their dashboard. You don't need to intervene at any stage!
Vendors can run normal, reverse, and silent auctions and the plugin also enables auto-bidding for buyers, making it super convenient to use.
Pros:
Excellent pricing
Host of features
Cons:
Does not work as a standalone plugin
---
Must-Haves in An Auction Theme/Plugin
Gutenberg compatibility and GDPR compliance are two essential features every contemporary auction theme must-have.
Aggressive pricing and free extra plugins are great plus points. As long a theme's design fits your taste and enables different auctioning styles, you can purchase it without thinking twice.
On the other hand, auction plugins must have easy-to-use interfaces and must be compatible with all themes. Security and compatibility with all payment modes are also critical.
If the plugin enables direct vendor auctions, offers multiple auction types, and fits your budget, you can purchase it without hesitating.
---
Verdict
The iBid theme is versatile and beautiful – it can replace any other theme on our list without making any compromises. It is undoubtedly the best WordPress auction theme in the market.
WP Auctions is equally versatile, and since it's a plugin, you can use it with a theme of your liking. 
It also comes with a slew of security and auction features, making it the best WordPress auction plugin in the market.
If we were to recommend a theme and a plugin point-blank, iBid and WP Auctions would be the perfect contenders.